AudioControl Matrix Plus 6-channel line driver
Spend

$100.00

to

FREE SHIPPING
Just like the Matrix Plus you love, only smaller
AudioControl's Matrix Plus 6-channel line driver has long been one of our most popular signal-boosting solutions for amp owners who wanted more powerful sound from their slightly anemic systems. This iteration of the Matrix Plus offers the same outstanding performance, but it's now 30% smaller in size, so it takes up even less room in your ride. And its board is now conformal coated to help protect internal components from dirt, debris, and vibration.
Feed your amps the signal they deserve
AudioControl's Matrix Plus 6-channel line driver will ensure that your sound processors and power amplifiers receive strong, clean signals to perform their best. Many car receivers boast 4- and 5-volt preamp outputs, but that's at full power. Turn it down to a normal volume level, send the signal through fifteen feet of RCA cabling, and your amps may end up with just a couple of volts — not enough for good clean amplification. Enter the Matrix Plus.
Boost that signal
The Matrix Plus boosts the signal from your receiver up to 24 dB, right up to the maximum level accepted by your amplifier or processor. The high-voltage level keeps the noise out of your system, while feeding your amps the signal they need to deliver top performance. The Matrix Plus offers three sets of inputs and outputs for the traditional front/rear/sub setup, but it can also be used in different situations to boost the signals of up to three separate 2-channel source units — like aftermarket CD players, DVD/Blu-ray players, or gaming consoles — if needed.
Level-setting with LED indicators
AudioControl makes it easy: turn up the gain knobs until the lights indicate the output levels you want, and you're all set. Lights show you when you've achieved a 1-volt, a 2-volt, or a 5-volt RMS output. "Maximized" lights let you know that you're at top volume and may need to back off on the gain. Balanced inputs reject noise caused by your vehicle's electrical system, but you can switch to unbalanced operation if necessary. The optional dash-mounted ACR-1 wired remote allows you to conveniently adjust the volume while you're on the go.
Product highlights:
6-channel line driver
provides up to 24 dB of gain (9.5 volt RMS maximum)
top-mounted controls for easy adjustment
three sets of RCA balanced inputs and outputs eliminate noise (switchable to unbalanced mode)
lights indicate 1-, 2-, or 5-volt output, plus Maximized indicator
conformal-coated board protects against the elements and vibrations
subsonic filter on sub output: 33 Hz, 18 dB/oct
optional wired remote level control available (item 161ACR1)
recommended fuse rating: 1 amp
More Info:
frequency response: 10-100,000 Hz
signal-to-noise ratio: 110 dB at full output
dimensions: 7-1/8"W (including cables) x 1-5/16"H x 7-1/8"D
View full details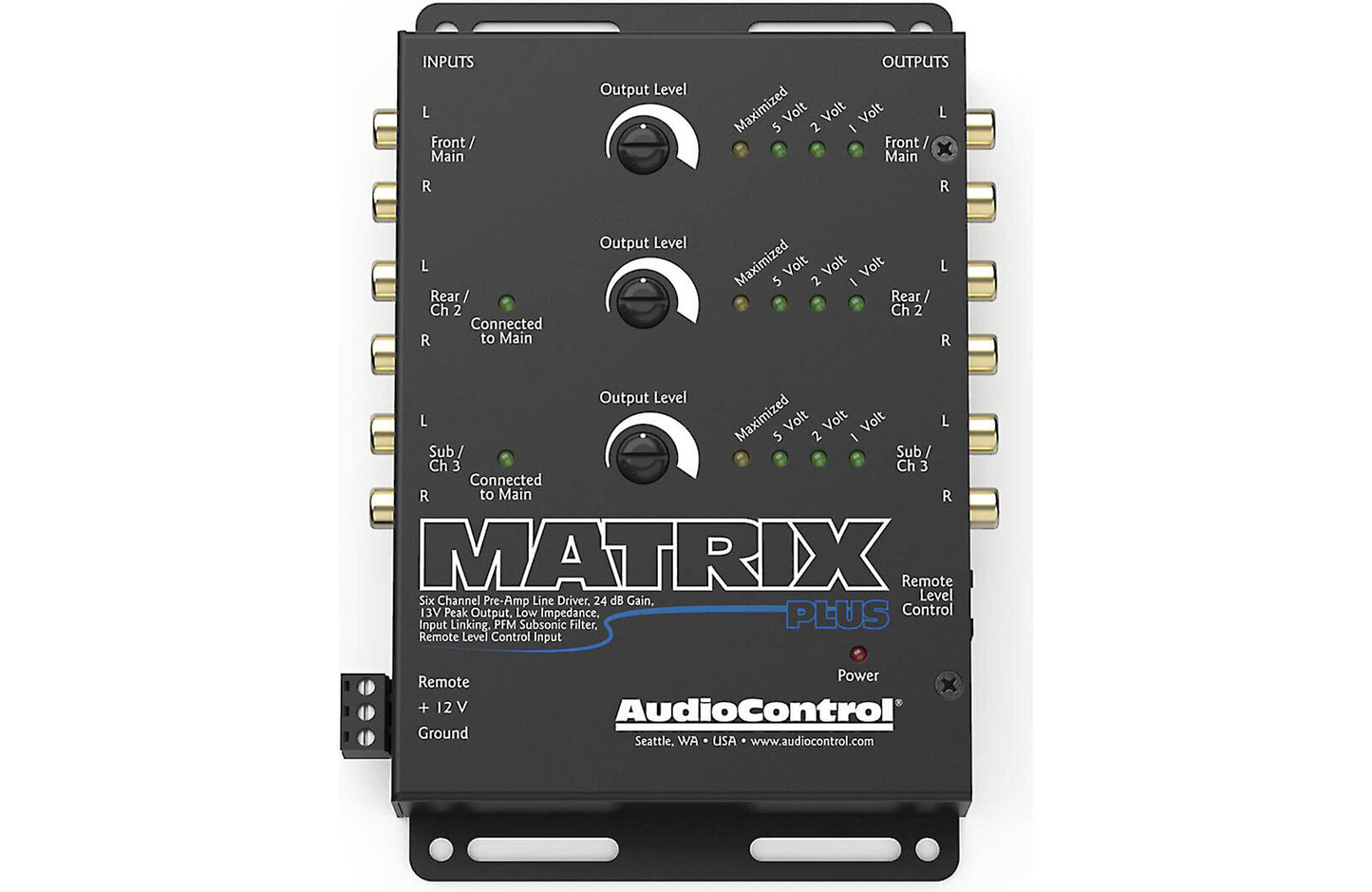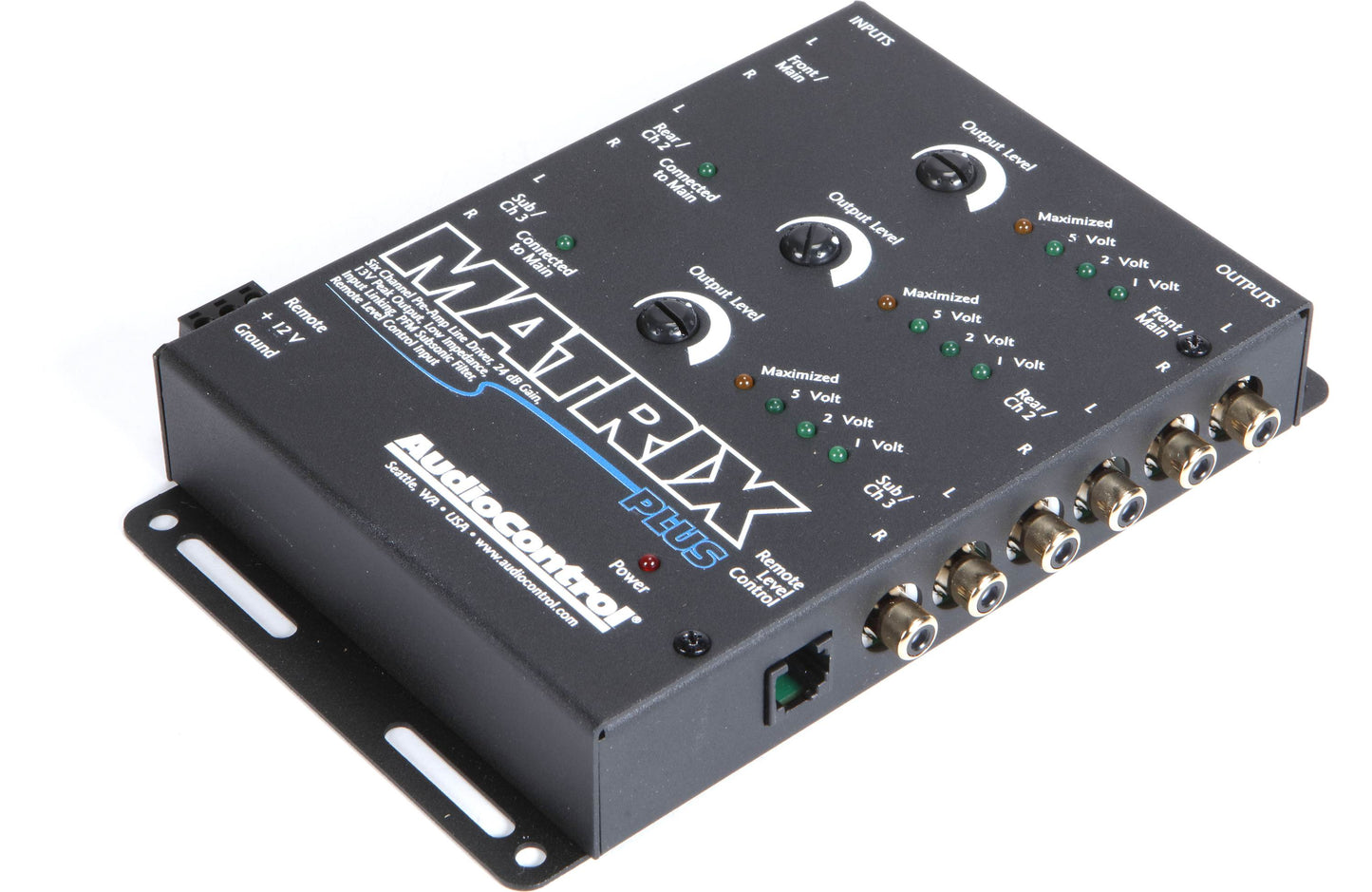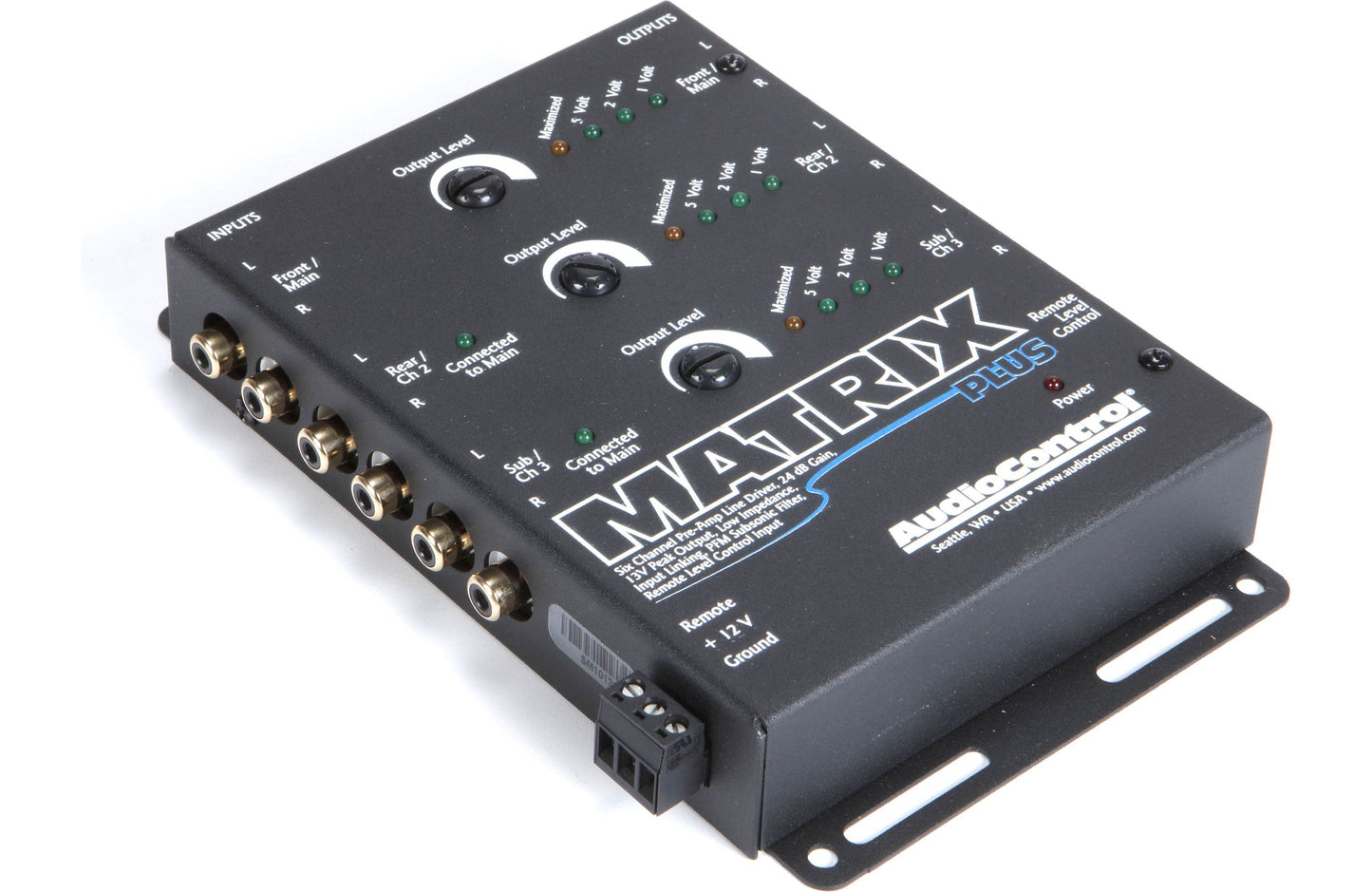 AudioControl Matrix Plus 6-channel line driver