AudioControl's The Epicenter InDash Bass restoration processor with SPL/voltage display
Spend

$100.00

to

FREE SHIPPING
Turn up the bass
You don't listen to rap or trance, but you wish the bass in your classic rock or Tejano music could bump like that. Or, you're a radio listener and need to overcome its limited bass response so your subwoofer can rock. AudioControl's The Epicenter InDash bass processor will maximize the low-frequency power of your system, whether you listen to bass from a small tube or a multi-woofer competition setup. Simply install this processor between your car's receiver and your amps, and hear what you've been missing.
Processor restores the lowest frequencies
The Epicenter InDash uses the bass enhancement circuitry of AudioControl's legendary "The Epicenter" bass processor to analyze the signal coming from your receiver, restore low bass fundamental tones, and increase your bass response without stressing out your speakers. And you can connect The Epicenter InDash to just about any receiver, thanks to its speaker- and preamp-level inputs.
Simple and effective
One twist of the bass knob, and you'll hear the bottom returning to your music. The Epicenter InDash does a great job of pumping up your digital music files or live recordings, restoring low bass that's been lost to compression or poor recording. Separate parametric, Para-BASS™ controls let you fine tune bass response and allow you to choose the center frequency for the bass maximization circuitry.
SPL meter for competitors
You'll also get an SPL display that uses a built-in microphone to measure the sound pressure level of your system — all the way up to 160 dB. A "Peak Hold" setting allows you to show off your system's maximum bump. The display also monitors your battery voltage, a nice feature if you've been playing music with the engine turned off. A warning light lets you know when interior sound levels exceed 120 dB so you can use ear protection. And you can switch the backlight illumination to either red or blue, to go with your car or mood.
Note: This AudioControl sound processor needs to be wired in line between your receiver and amplifier. Although it can be in line after an equalizer, it must be installed before any crossover.
Product highlights:
in-dash bass processor/SPL meter
increases bass response from your system
Para-BASS parametric bass EQ
speaker- and preamp-level inputs
SPL meter displays sound pressure level or battery voltage
built-in microphone
switchable backlight illumination (red or blue)
frequency response: 10 to 100,000 Hz
6-13/16"W x 1-1/16"H x 5-1/16"D
weight: 2 pounds
View full details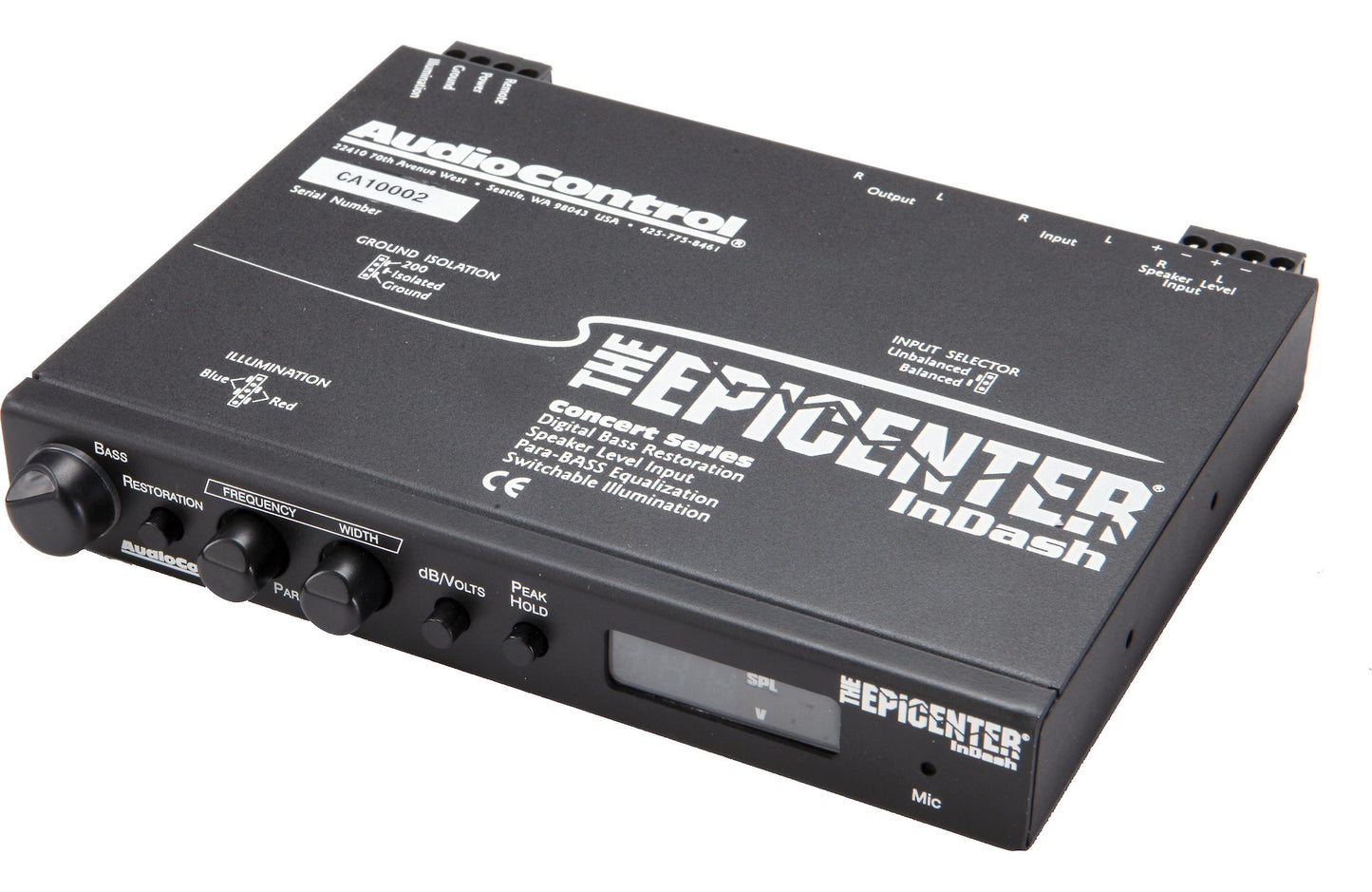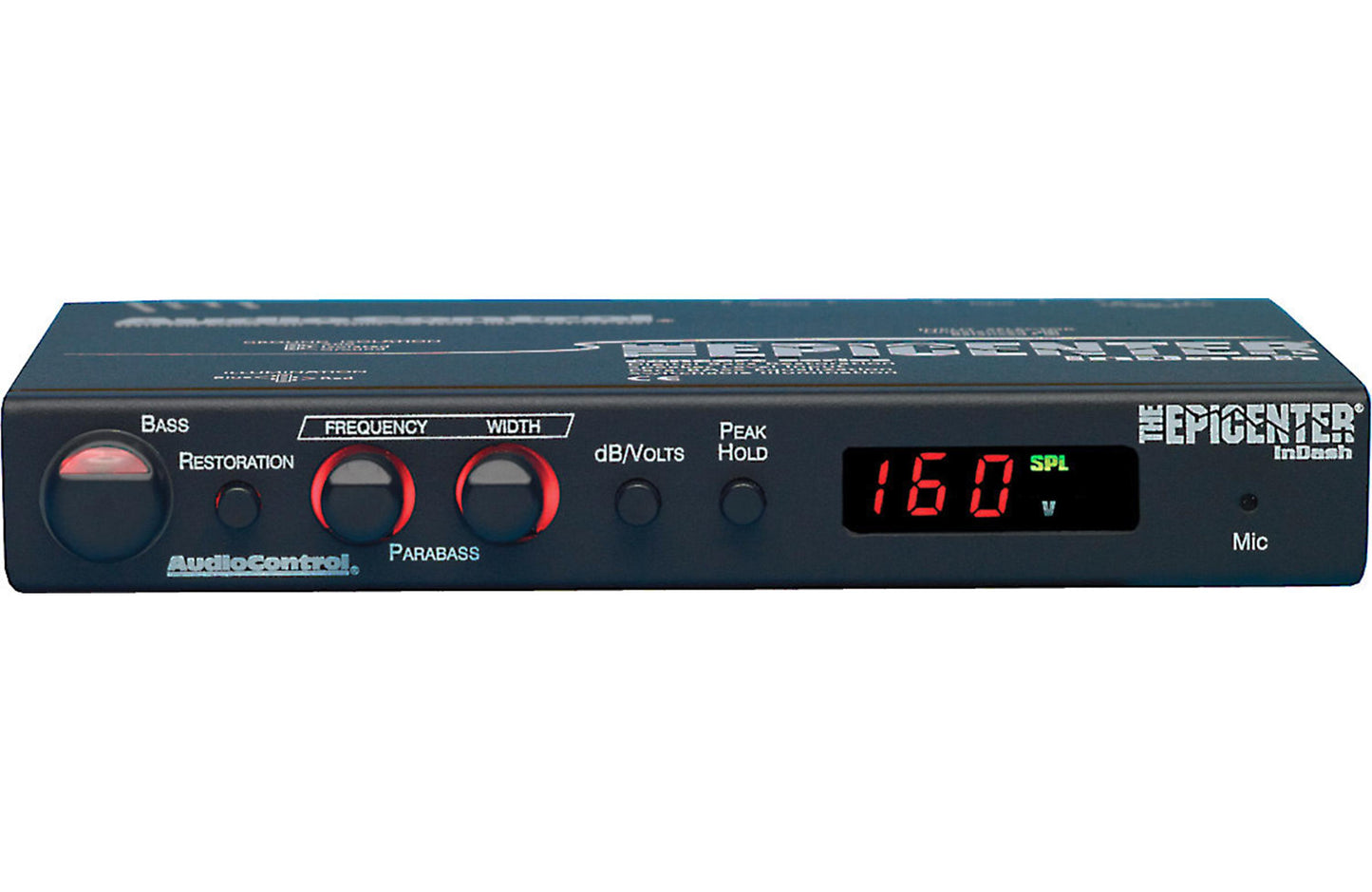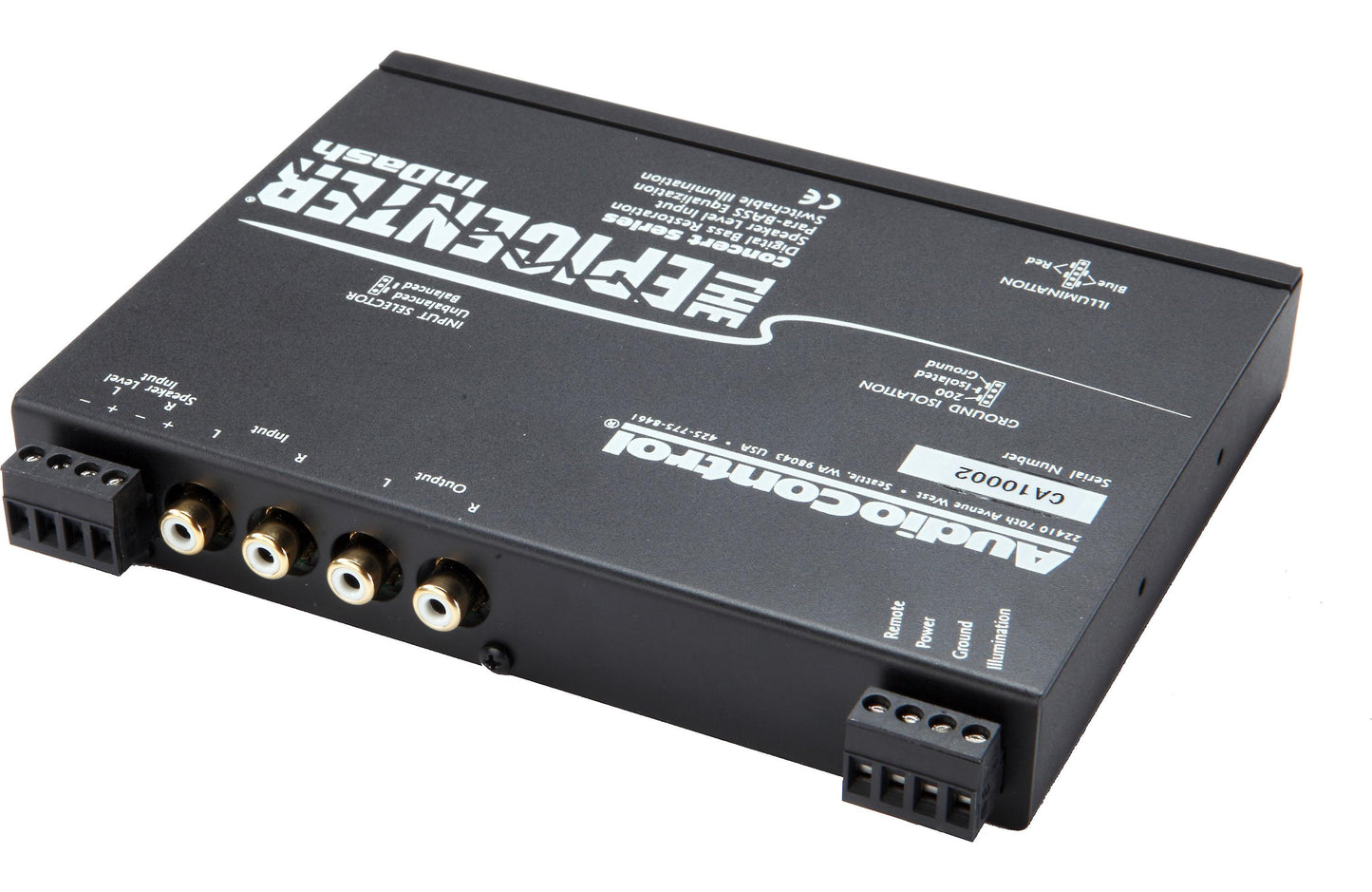 AudioControl's The Epicenter InDash Bass restoration processor with SPL/voltage display