Focal FPX 5.1200 5-channel car amplifier — 75 watts RMS x 4 at 4 ohms + 720 watts RMS x 1 at 2 ohms
Spend

$100.00

to

FREE SHIPPING
Power for your entire system
Focal brings you an amp that will drive a powerful system, yet it's only about the size of a large book. Their FPX 5.1200 five-channel amplifier will deliver 75 watts RMS to each of your front and rear speakers while sending up to 720 watts RMS to a subwoofer. Or, if you want a high-performance front stage and a sub in your system, you can use this amp in 3-channel mode to drive two speakers with 240 watts RMS each, plus the sub with 720 watts. Focal's engineers designed this amp to reproduce your music with unerring precision, so it'll pair up nicely with high-performance components or subs.
Tone controls for a variety of applications
Separate high- and low-pass filters on the front and rear channels let you optimize the signal for maximum performance without distortion. On the sub channel, a low-pass filter also lets you optimize the signal for your sub and enclosure. Subwoofer controls include a variable bass boost, variable subsonic filter, and adjustable phase control that'll dial in and focus the bass in your vehicle. Focal includes a wired remote so you can adjust the bass level from your front seat.
Product highlights:
5-channel car amplifier

75 watts RMS x 4 + 420 watts RMS x 1 at 4 ohms
120 watts RMS x 4 + 720 watts RMS x 1 at 2 ohms
240 watts RMS x 2 bridged at 4 ohms + 720 watts RMS x 1 at 2 ohms

CTA-2006 compliant
Class-D amplifier technology
front and rear channels:

variable high- and low-pass filters (50-500 Hz, 12 dB/octave)

subwoofer channel:

variable low-pass filter (50-250 Hz, 12 dB/octave)
variable phase adjustment (0-180°)
variable bass boost (0-12 dB at 45 Hz)
variable subsonic filter (20-50 Hz, 24 dB/octave)
wired remote bass level control
More Info:
preamp inputs only (front, rear, and sub)
wiring and hardware not included with amplifier

4-gauge power and ground wire recommended

fuse rating: 30A x 3
14-3/16"W x 2-5/16"H x 6-15/16"D
What's in the box:
Focal FPX 5.1200 owner's manual
5-Channel amplifier
FPX Remote Control
16.5' Remote control cable (RJ-14 modular plugs on both ends)
Six 30-amp ATM fuses (3 installed/3 spare)
2mm Allen wrench
4mm Allen wrench
Four M4 x 65mm Allen-head screws (4mm)
Two M4 x 15mm Phillips head screws
User manual
View full details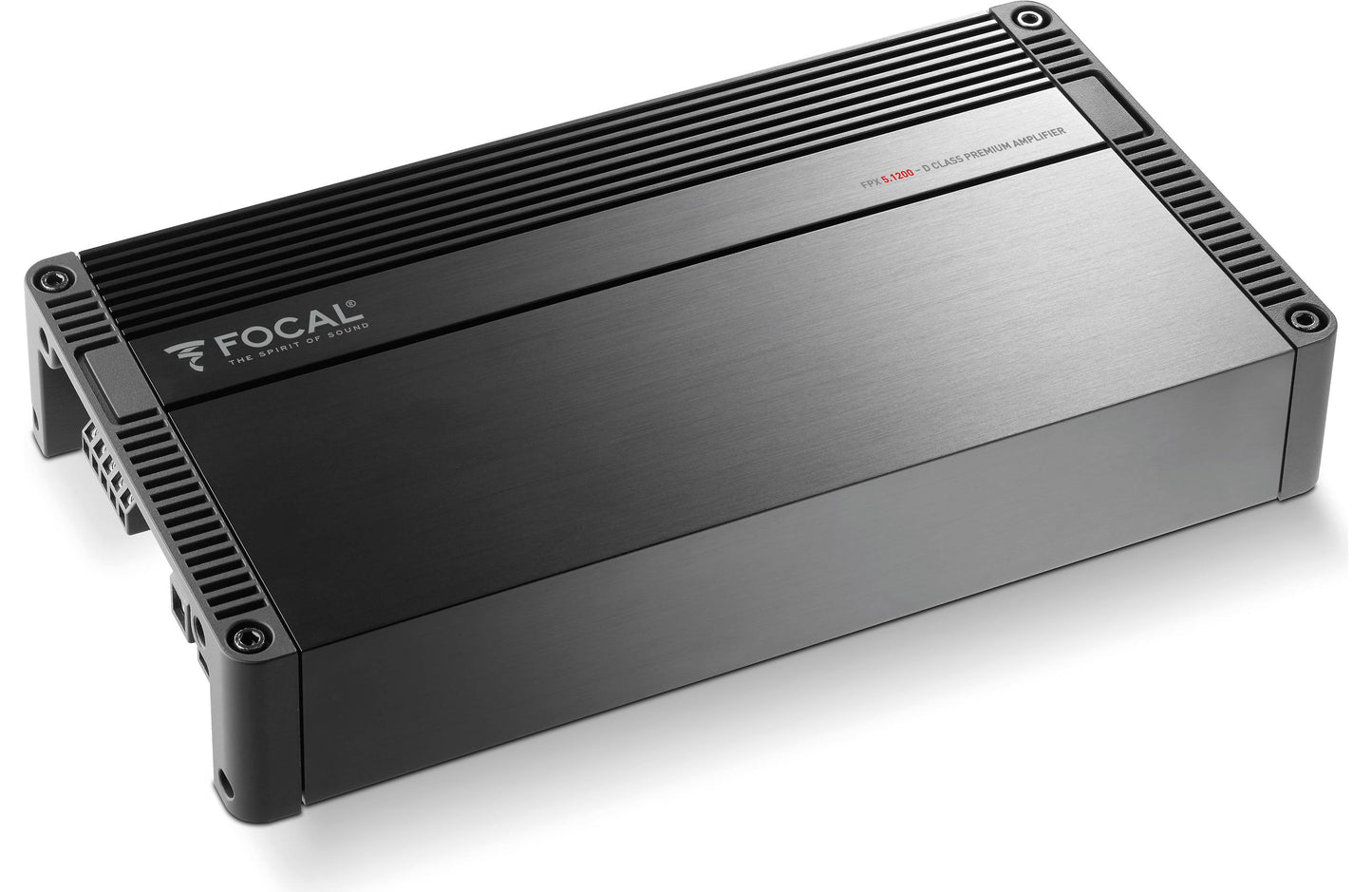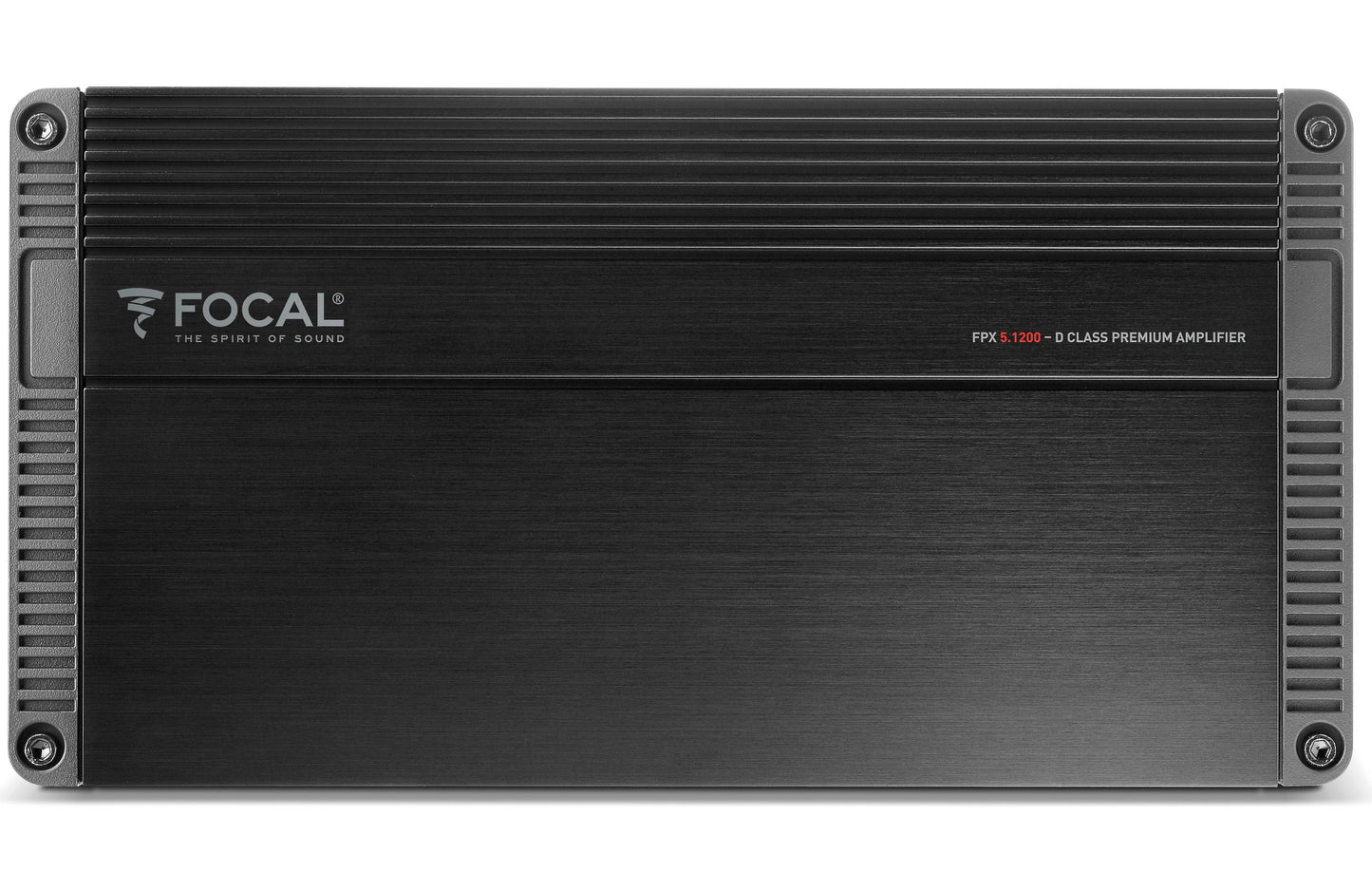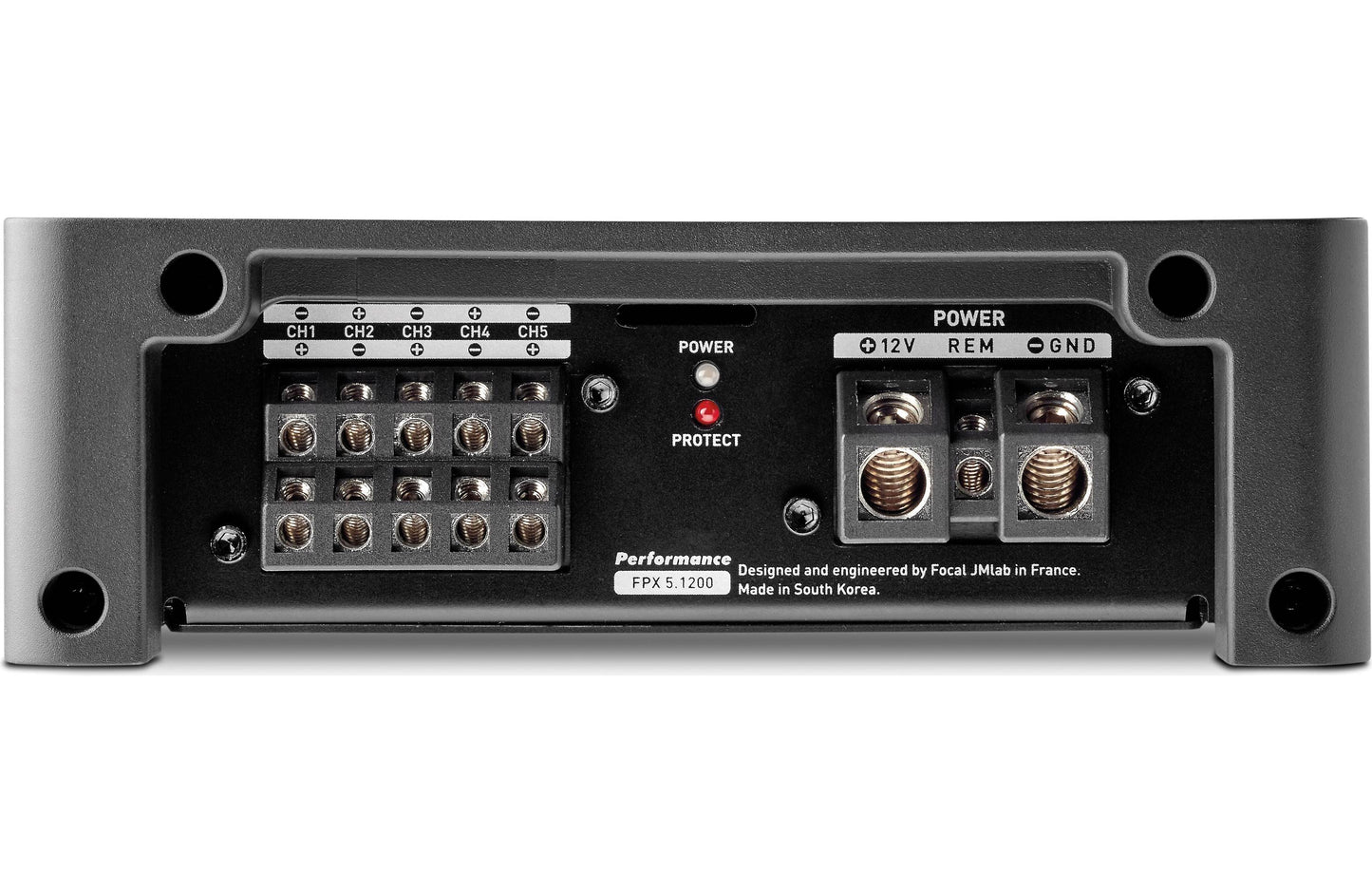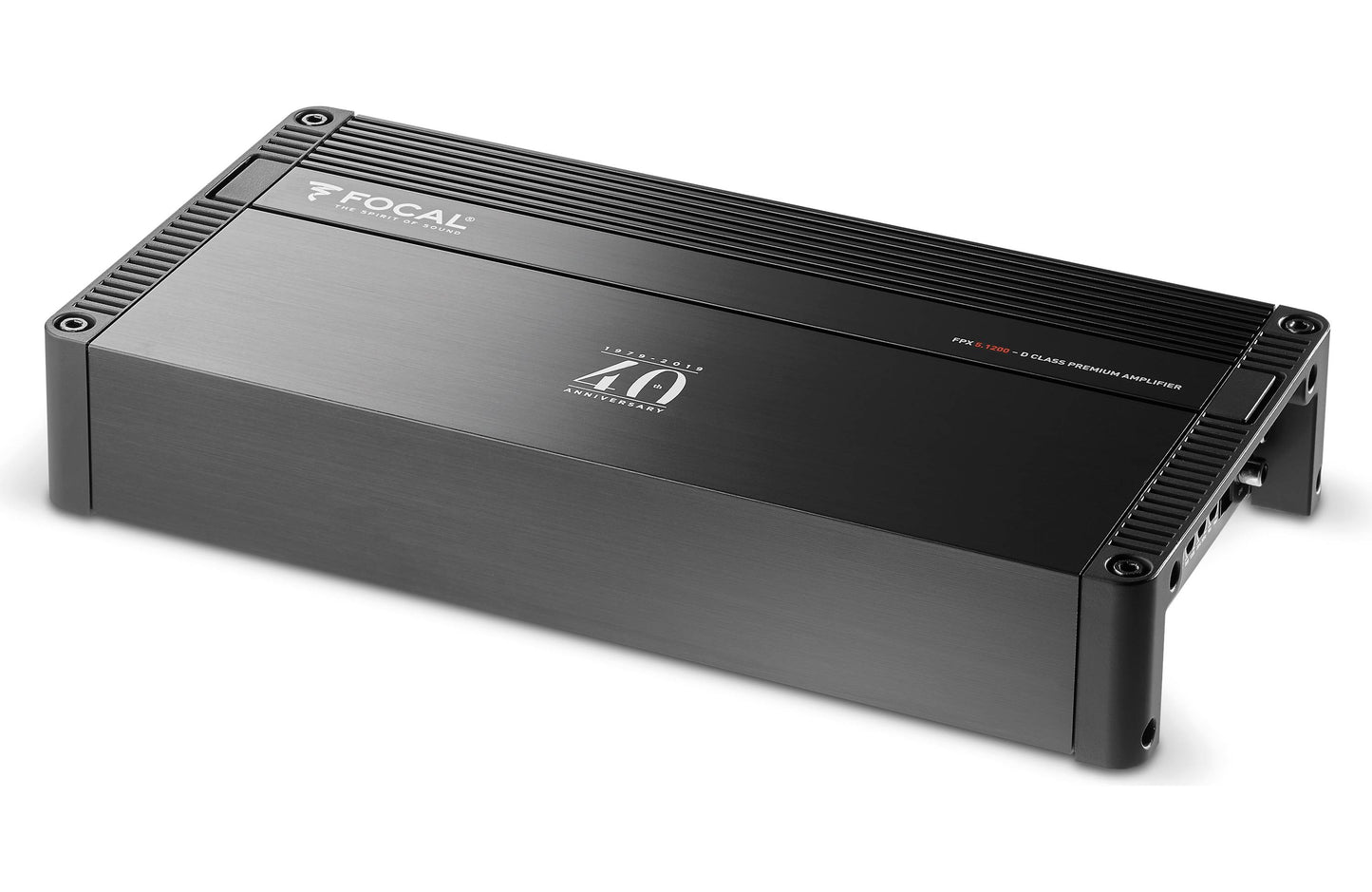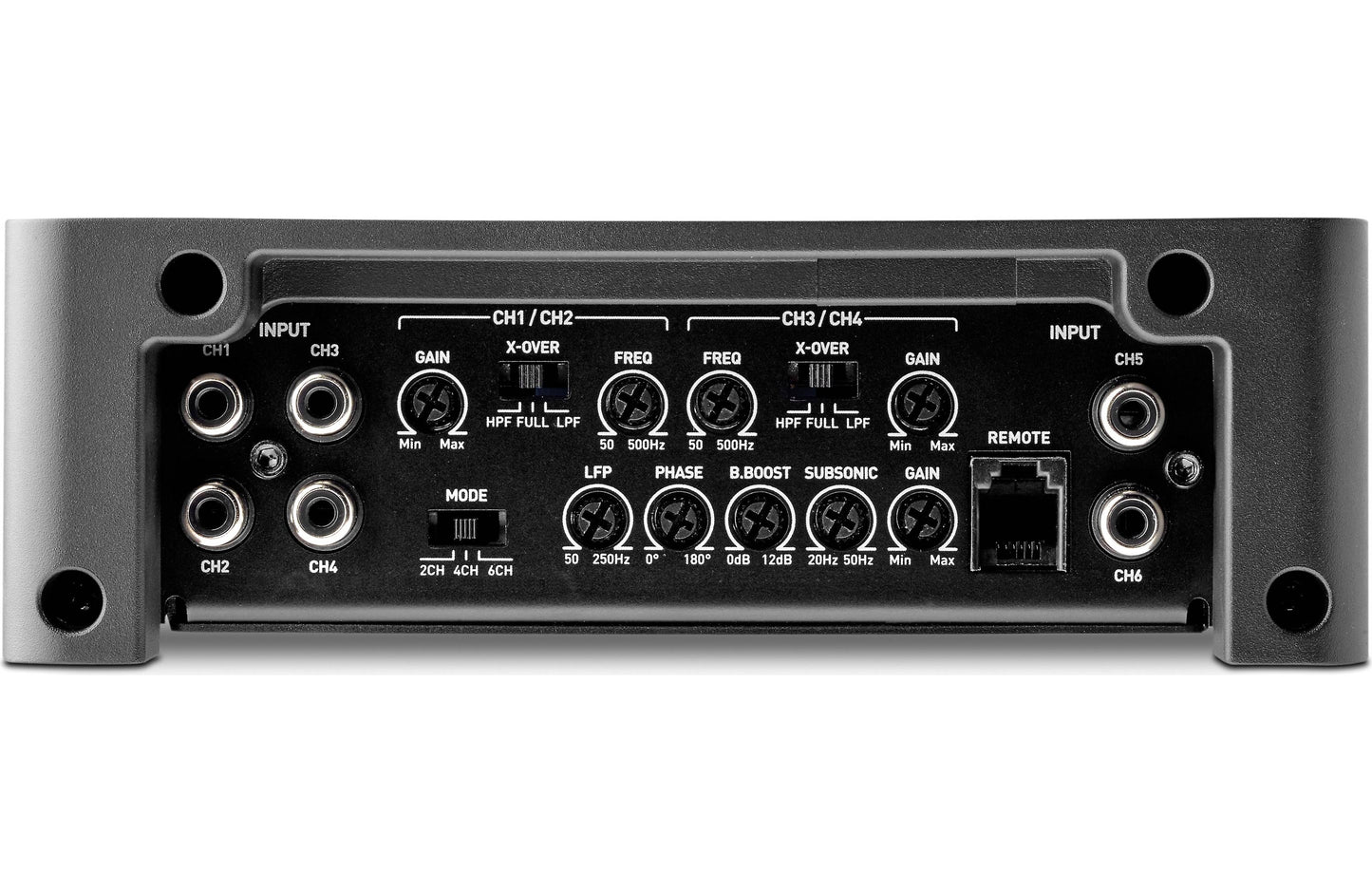 Focal FPX 5.1200 5-channel car amplifier — 75 watts RMS x 4 at 4 ohms + 720 watts RMS x 1 at 2 ohms