Focal Utopia 165W-XP Utopia M Series 6-1/2" component speaker system
Spend

$100.00

to

FREE SHIPPING
The Focal experience
If you prioritize performance in what you drive, why not hold your audio system to the same standards? With the utmost care and commitment to premium sound, Focal designed, developed, and manufactured this Utopia 165W-XP 6-1/2" component system at their workshop in Saint-Etienne, France. It stuns with sonic accuracy and depth of sound on par with their highly acclaimed home speakers. Enhance the joy of driving with this system's immersive soundstage — authentic reproduction and distinctive placement of instruments across your dash will make your music "come alive" before your eyes... and ears.
What a Beryllium tweeter can do
Focal's unique 'm'-profile inverted dome tweeter employs Beryllium for its supremely smooth highs. Lighter and more rigid than both titanium and aluminum, this material brings the smoothness of a silk tweeter to your music, but with the accuracy and extended response usually associated with a high-quality metal tweeter. Brace yourself for a new level of detail from these tweeters.
Innovative woofer design
Using their proprietary 'W" sandwich cone, Focal maximizes the lightness, rigidity, and damping of this foam core woofer, laminated on both sides with thin sheets of glass fabric. Focal even varies the thickness of the foam core to ensure the absolute accuracy of the woofer's playback across the entire sonic spectrum. Their tuned mass damper surround minimizes breakup in the midrange to enhance already impressive playback.
The aluminum alloy basket uses an open back to cool the woofer's internal works and to prevent any trapped air from interfering with the cone's motion. Focal also includes an audiophile-grade external crossover for the smoothest possible transition between the tweeter and woofer, and gives you the option of powering each driver separately. With power handling up to 100 watts RMS, Focal gives you the tools you need to optimize this versatile speaker system.
Product highlights:
component speaker system includes two 6-1/2" woofers, 2 tweeters, 2 external crossovers, and 2 woofer grilles
'W' sandwich foam and glass fiber composite woofer cone
tuned mass damper butyl rubber surround
super-rigid aluminum basket
1" Beryllium 'M'-profile inverted-dome tweeter
bi-ampable external crossover
2-ohm impedance
handles up to 100 watts RMS (200 watts peak power)
frequency response: 60-40,000 Hz
sensitivity: 93 dB at 2.83 volts
top-mount depth: 2-15/16"
grilles included
What's in the box:
Focal Utopia 165W-XP owner's manual
Two woofers
Two inverted dome tweeters
2 Flush mount tweeter cups (with tweeters installed)
2 Crossover networks
2 Woofer grilles
2 Woofer grille mounting rings
8 Speed clips
Eight 1-1/8" Screws
Four 3/4" Screws
Specifications
Beryllium precautions
Focal brochure
View full details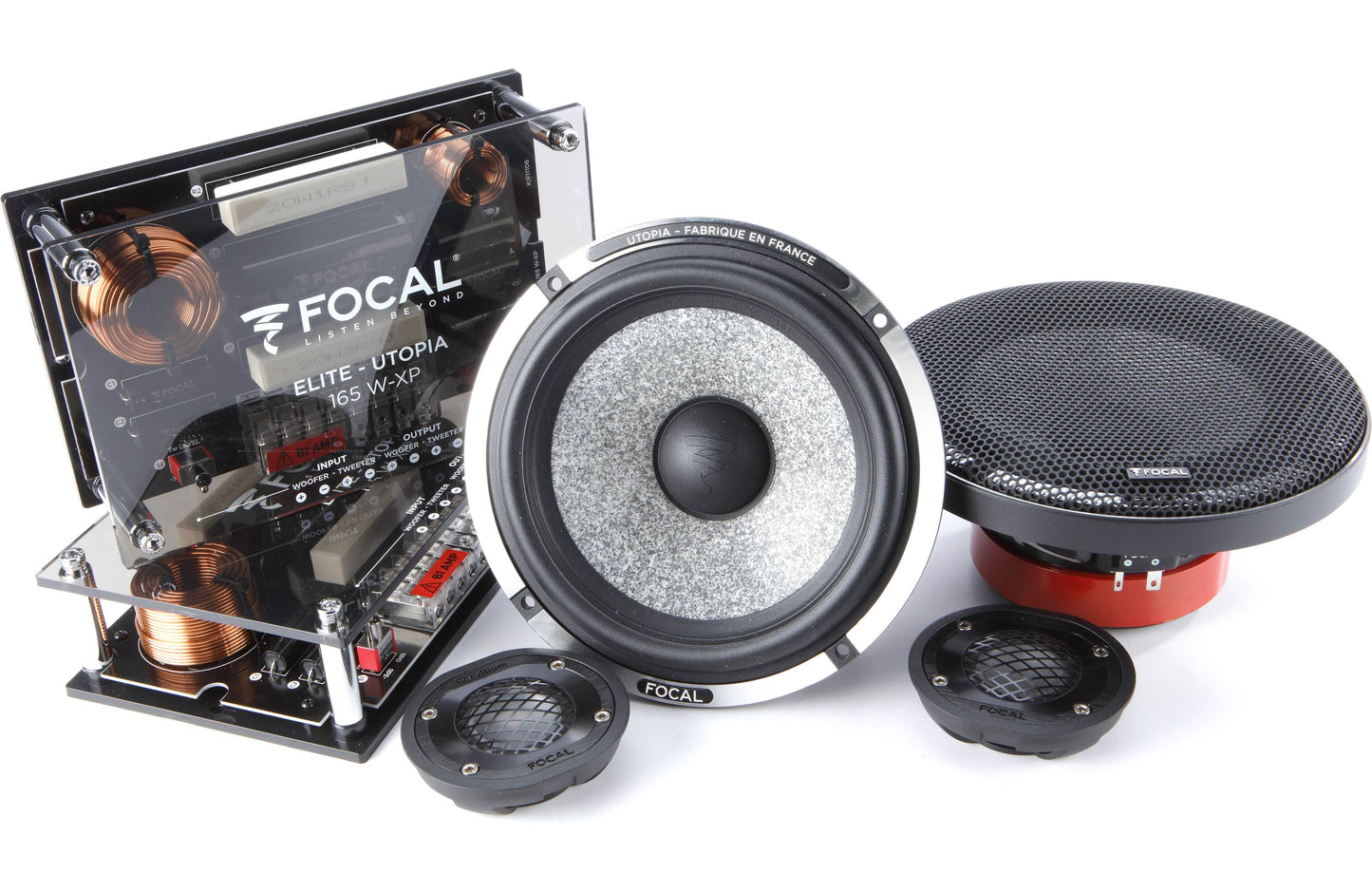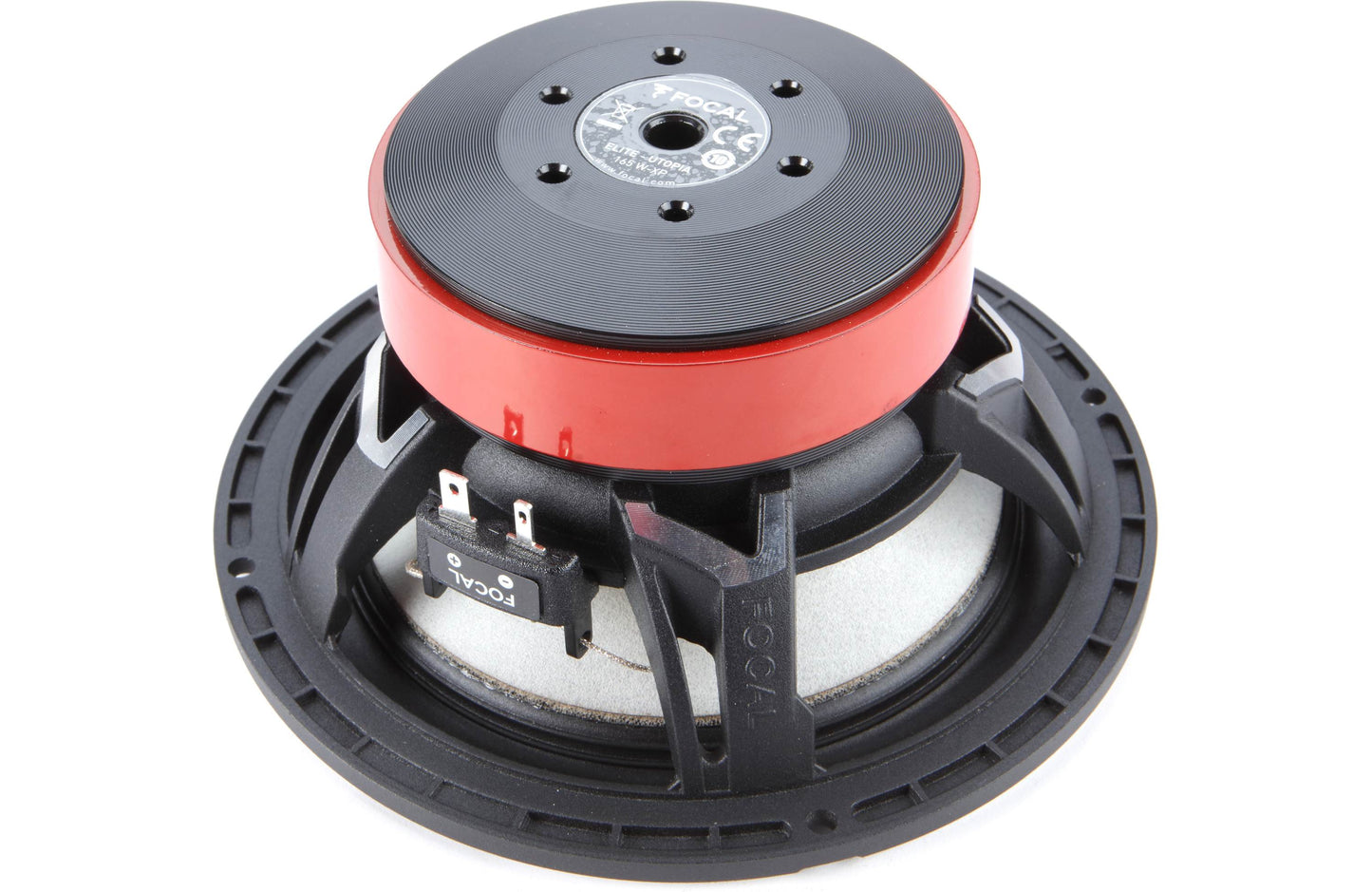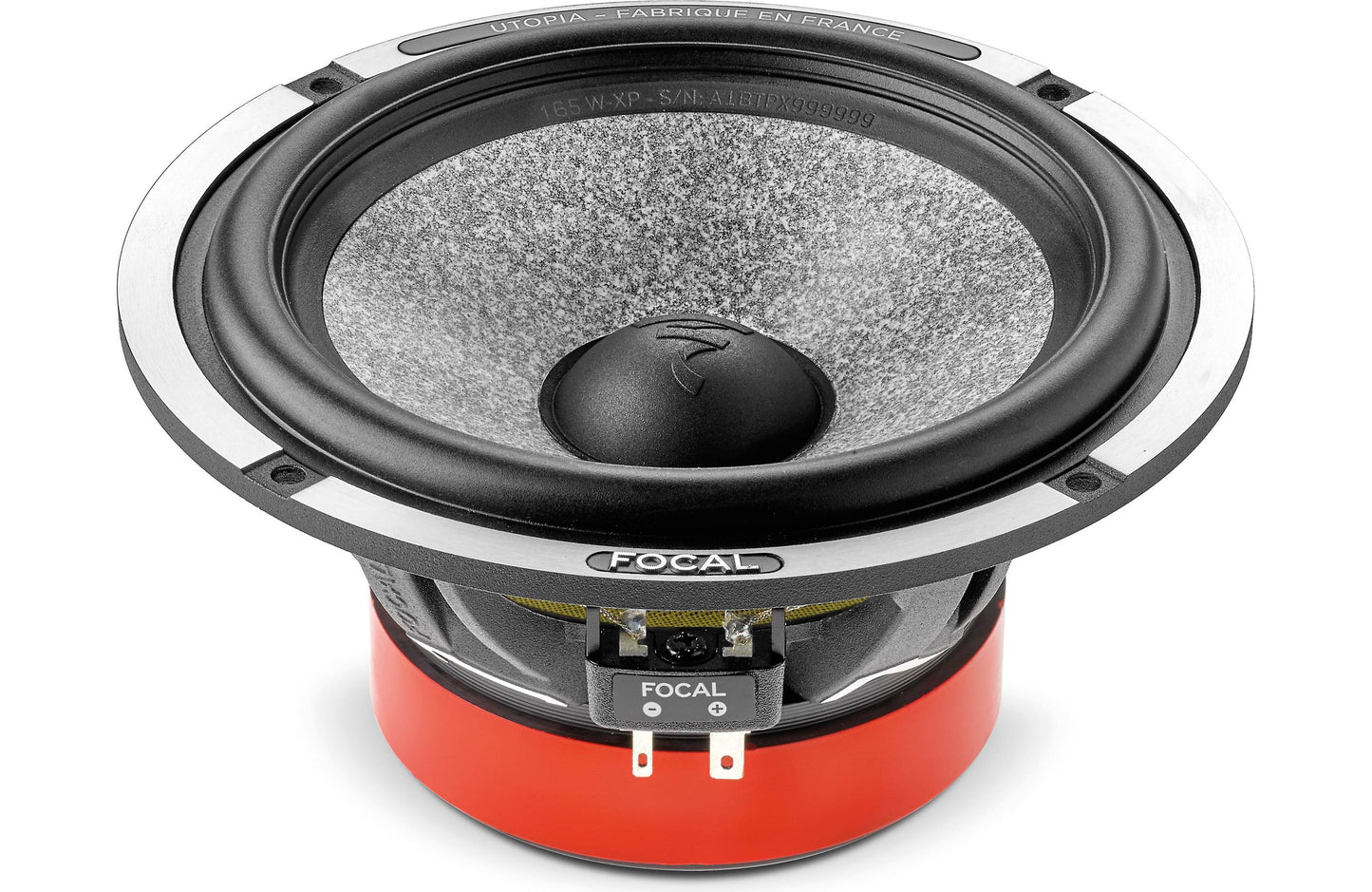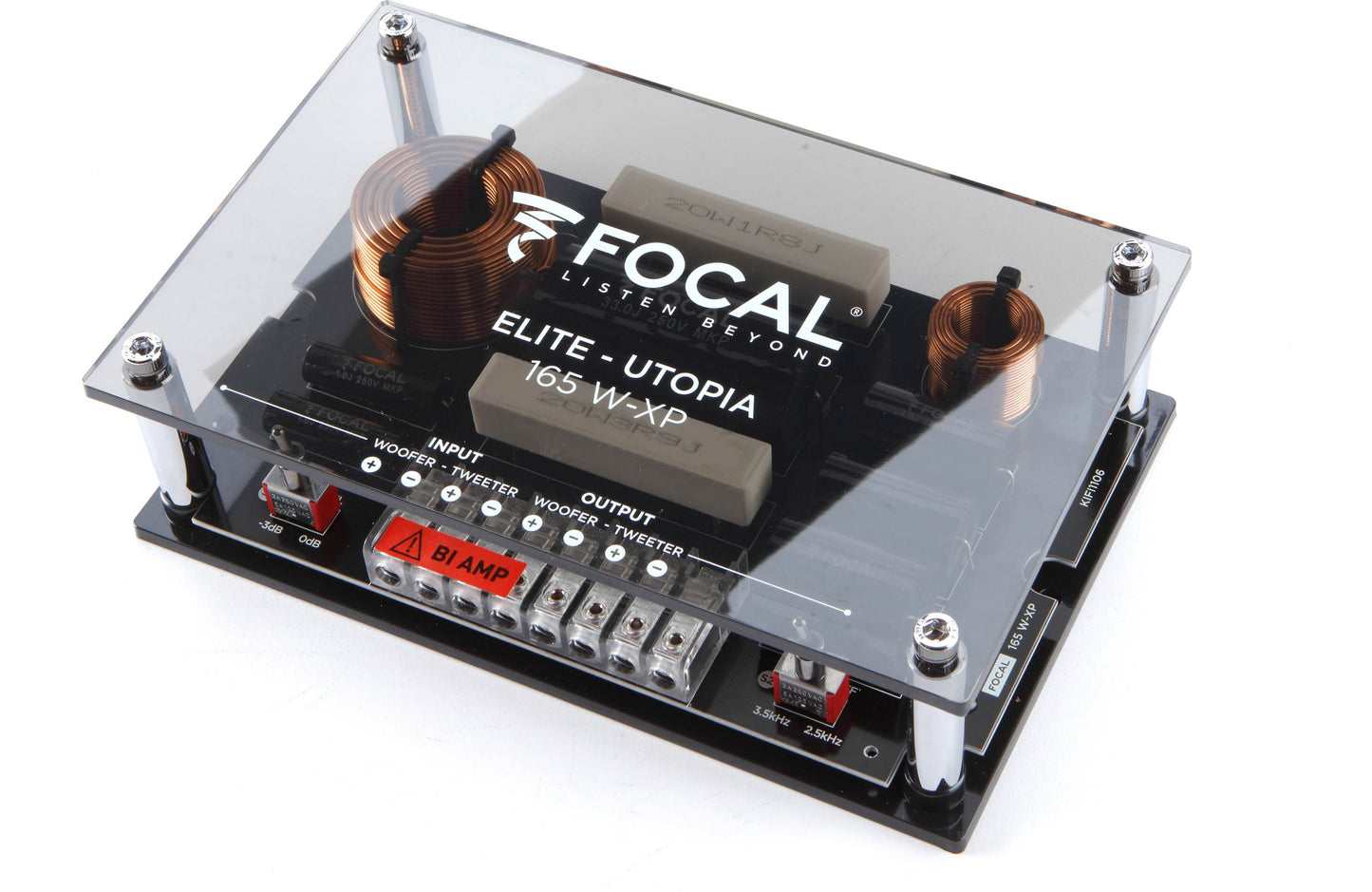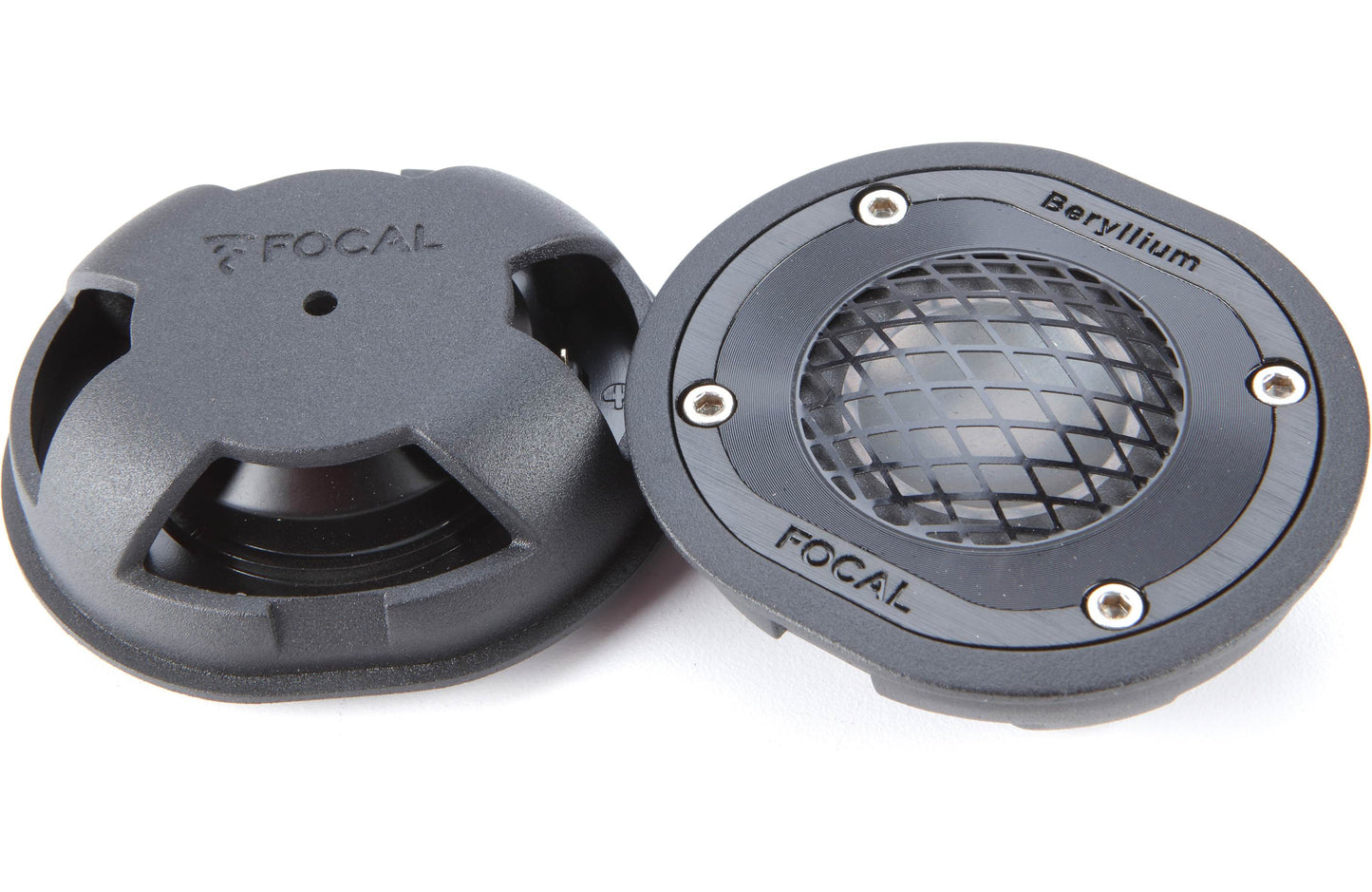 Focal Utopia 165W-XP Utopia M Series 6-1/2" component speaker system