Kicker 49PTRTP12 Down-firing (500W RMS) 12" shallow-mount enclosure with Kicker CompRT subwoofer
Spend

$100.00

to

FREE SHIPPING
The Kicker 49PTRTP12 Powered Subwoofer Enclosure is the ultimate solution for delivering powerful bass in tight spaces. With its compact design and innovative features, this subwoofer brings Kicker's renowned bass performance to today's cars and trucks.
Featuring a 500-watt amplifier, the 49PTRTP12 combines power with precision. The low-profile CompRT 12" subwoofer and 12" passive radiator work harmoniously in a downward-firing box, producing deep, impactful bass without sacrificing space. Unlike ported enclosures, the passive radiator enhances the low-end thump without introducing unwanted noise.
Durability is key, and the CompRT subwoofer is up to the challenge. Its tough injection-molded polypropylene cone resists distortion even at high volumes, while the rubber surround and specially designed back plate enable greater excursion for enhanced bass output. This means you'll experience more depth and richness from this slim sub than from other comparable models.
With a 500-watt RMS amplifier, the 49PTRTP12 delivers ample power to elevate your music to new heights. Take control of your bass with the amplifier's adjustable features, including a low-pass crossover, phase switch, and bass boost. Whether you prefer a subtle rumble or thundering low frequencies, you can fine-tune the sound to your liking. The high- and low-level inputs ensure compatibility with any system, and the included wired remote knob allows you to conveniently adjust the bass intensity from the driver's seat.
Crafted with precision, the rugged sealed box is custom-designed for optimal performance with the subwoofer. Its downward-firing configuration not only safeguards the subwoofer from potential damage but also allows you to utilize the top of the cabinet for storing items, maximizing space efficiency. Constructed from sturdy medium-density fiberboard and finished with a rugged black carpet covering, this enclosure not only delivers exceptional sound but also boasts a visually appealing design that complements its performance.
Upgrade your car audio system with the Small Footprint, Big Bass of the Kicker 49PTRTP12 Powered Subwoofer Enclosure. Immerse yourself in deep, rich bass and enjoy the convenience of a compact design without compromising on sound quality
General Features:
12" Sealed Loaded Subwoofer Enclosure with Built-In Amplifier
Power Handling:

Peak: 1000 watts
RMS: 500 watts

Final Impedance: 2-ohm
Built-in Class D amplifier
Includes Remote Bass level controller
Sealed Vehicle Specific enclosure
8 AWG gauge power and ground wiring is recommended for installation
Enclosure Dimensions: 14.5" TD x 28.38" W x 6.38" H
Authorized Internet Dealer
1-year Manufacturer's Warranty
Subwoofer Features:
12" Subwoofer
Polypropylene Cone
Santoprene Rubber Surround
Comp-RT/CRT Series
Frequency Response: 25 - 150 Hz
Sensitivity: 84.8 dB
Amplifier Features:
Class D Monoblock Amplifier
Low-Pass Crossover Frequency: 50 - 120 Hz
Bass Boost: 0 - 6 dB
Input sensitivity: 125mV - 5 volts
Fuse Rating: 25A x 2 
View full details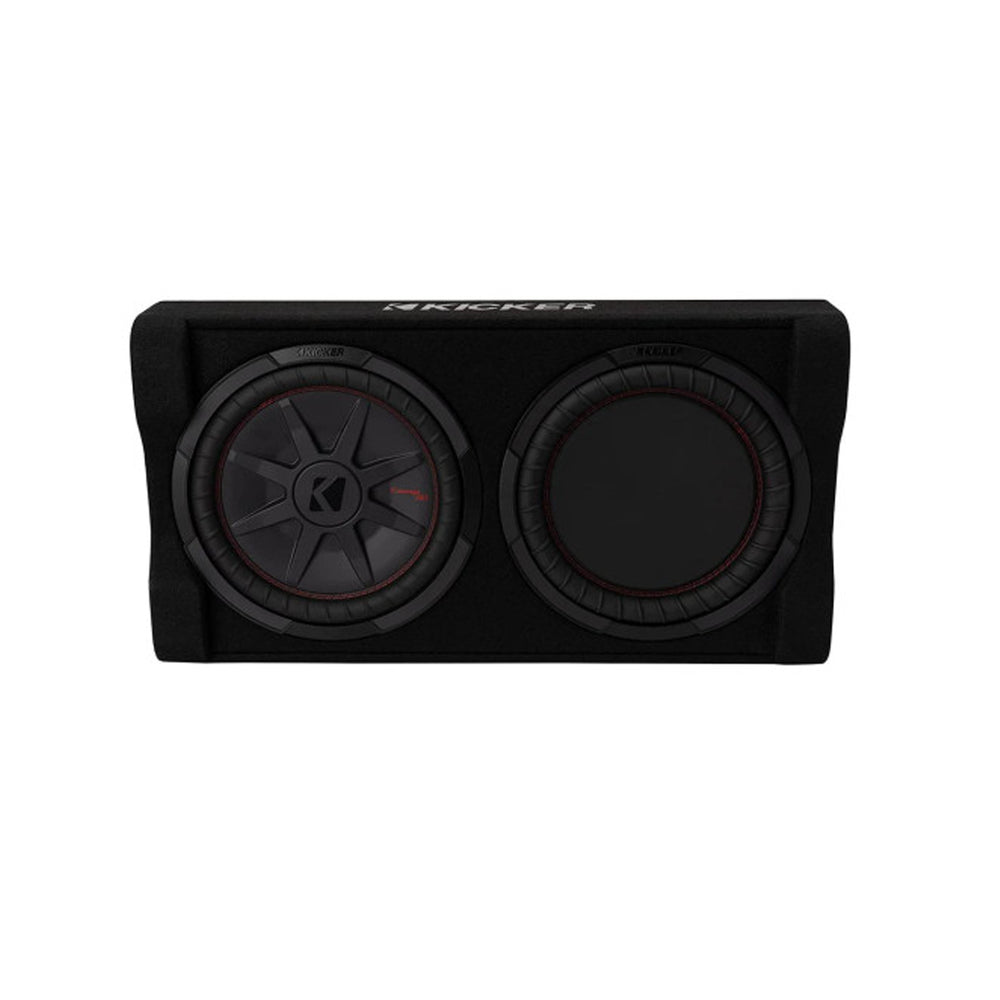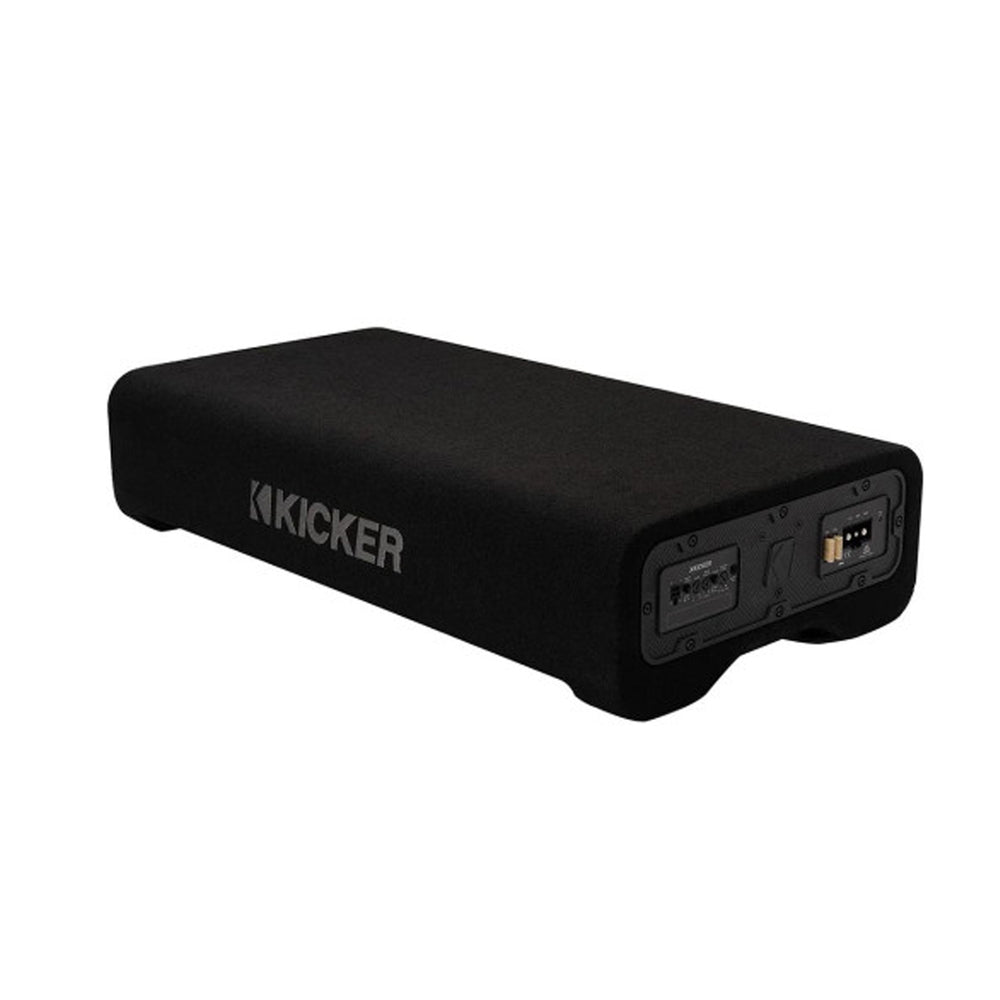 Kicker 49PTRTP12 Down-firing (500W RMS) 12" shallow-mount enclosure with Kicker CompRT subwoofer