Morel Elate Carbon 53A Elate Carbon Series 5-1/4" 3-way component speaker system
Spend

$100.00

to

FREE SHIPPING
Premium materials and design
Just the style of Morel's iconic Lotus-design speaker grilles takes your breath away, and then there's the sound... The Elate Carbon 53A 5-1/4" 3-way component system includes a 5-1/4" woofer, a 3" midrange driver, and the MT450 tweeter for a fuller sound and excellent detail at impressive volume levels. Both the midrange and the woofer use a carbon-fiber/Rohacell cone that minimizes distortion for the most accurate sound possible.
For a better factory fit
Morel enhances the performance of their MT450 open-cavity silk dome tweeter with a coating of Acuflex™ compound, which helps damping for a natural sound. Its compact design makes it in easier fit in more factory tweeter locations.
Build an active system
Passive crossover systems are not included. Morel designed these Elate Carbon speakers to be neutral, without coloration, so that you can use your active crossover to craft exactly the right sound for you and your vehicle. You'll need an active crossover to use these speakers. If you would like to use passive crossovers with this system, optional Morel MXT380C crossovers are available
Why choose Morel?
It's hard to not feel overwhelmed by your choices when deciding which component system is worthy of your car... and your ears. But if you're looking for the best, Morel's component speakers soar. Every bit of that excellence is due to their passion for sound and their insistence that every hand-made Morel driver be tested to meet their premium standards.
Product highlights:
3-way component speaker system
includes two woofers, two midrange drivers, and two tweeters
5-1/4" 3-layer carbon fiber/Rohacell woofer cone with butyl rubber surround
3" 3-layer carbon fiber/Rohacell midrange driver and 1.1" MT450 Acuflex coated silk dome tweeter
cast aluminum basket
handles up to 160 watts RMS (1000 watts peak power)
frequency response: 40-25,000 Hz
sensitivity: 85 dB at 2.83 V
woofer mounting depth: 2-7/16"
midrange mounting depth: 1-9/16"
midrange cutout diameter: 3-1/4"
grilles included
What's in the box:
Morel Elate Carbon 53A owner's manual
2 MW5 Woofers
2 MM3 Midrange
2 MT 450 Tweeters (with attached 7" length of speaker wire)
2 Woofer grilles
2 Midrange grilles
2 Midrange grille frames
2 Tweeter grilles (installed)
2 Tweeter flush mount housings (tweeters installed)
2 Flush mount clamps
2 Angled surface mount tweeter housings
2 Rubber bases for surface mount housings
Eight 1-1/4" Screws
Four 1" Screws
Eight 3/4" Screws
8 Large speed clips
8 Small speed clips
Grille putty
Eight 0.25" Crimp-on female quick slides
Two 0.187" Crimp-on female quick slides
Two 0.110" Crimp-on female quick slides
Two 0.187" Quick slide insulating covers
Two 0.110" Quick slide insulating covers
Installation guide
Warranty card
Genuine product verification instructions
View full details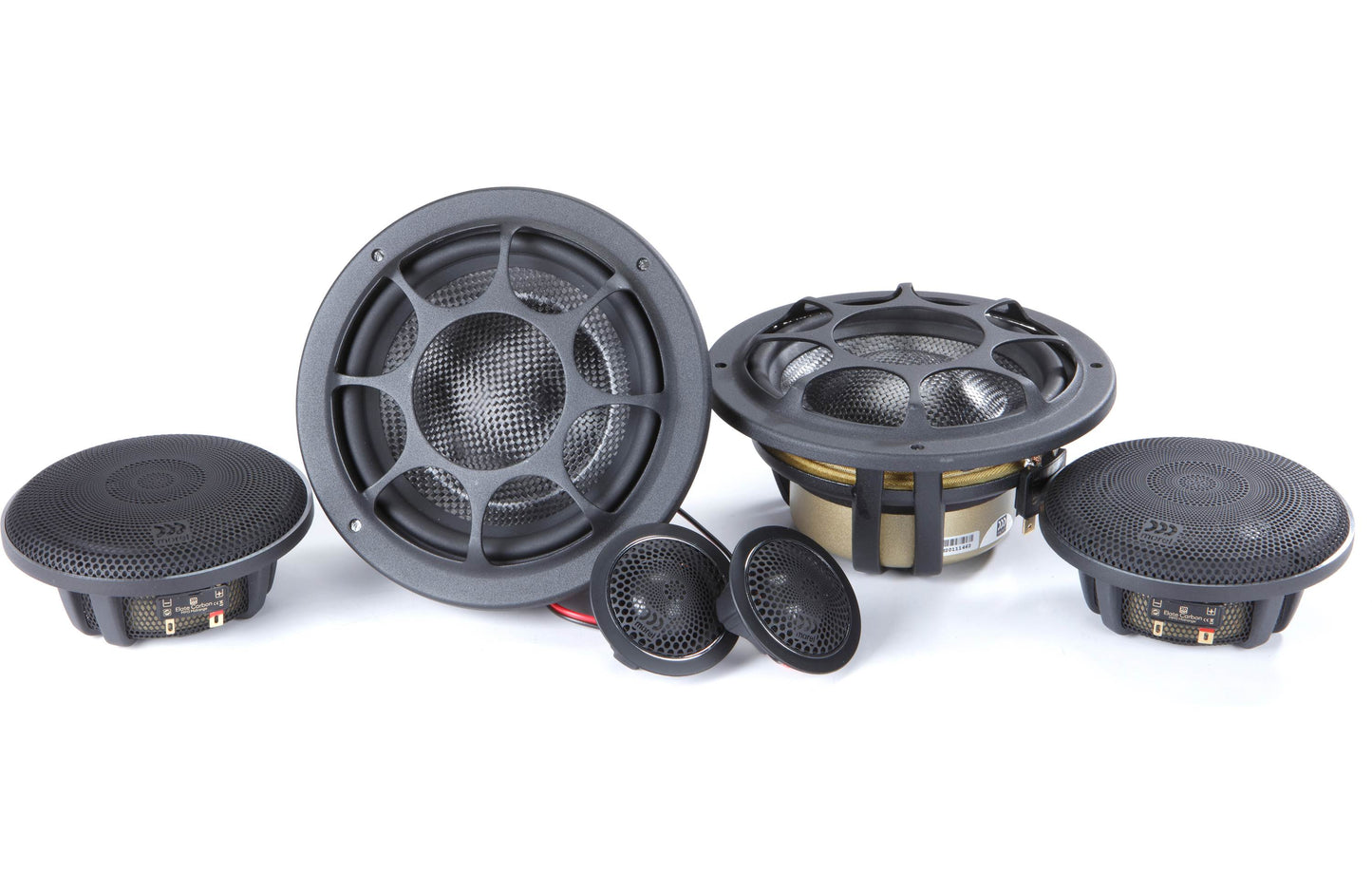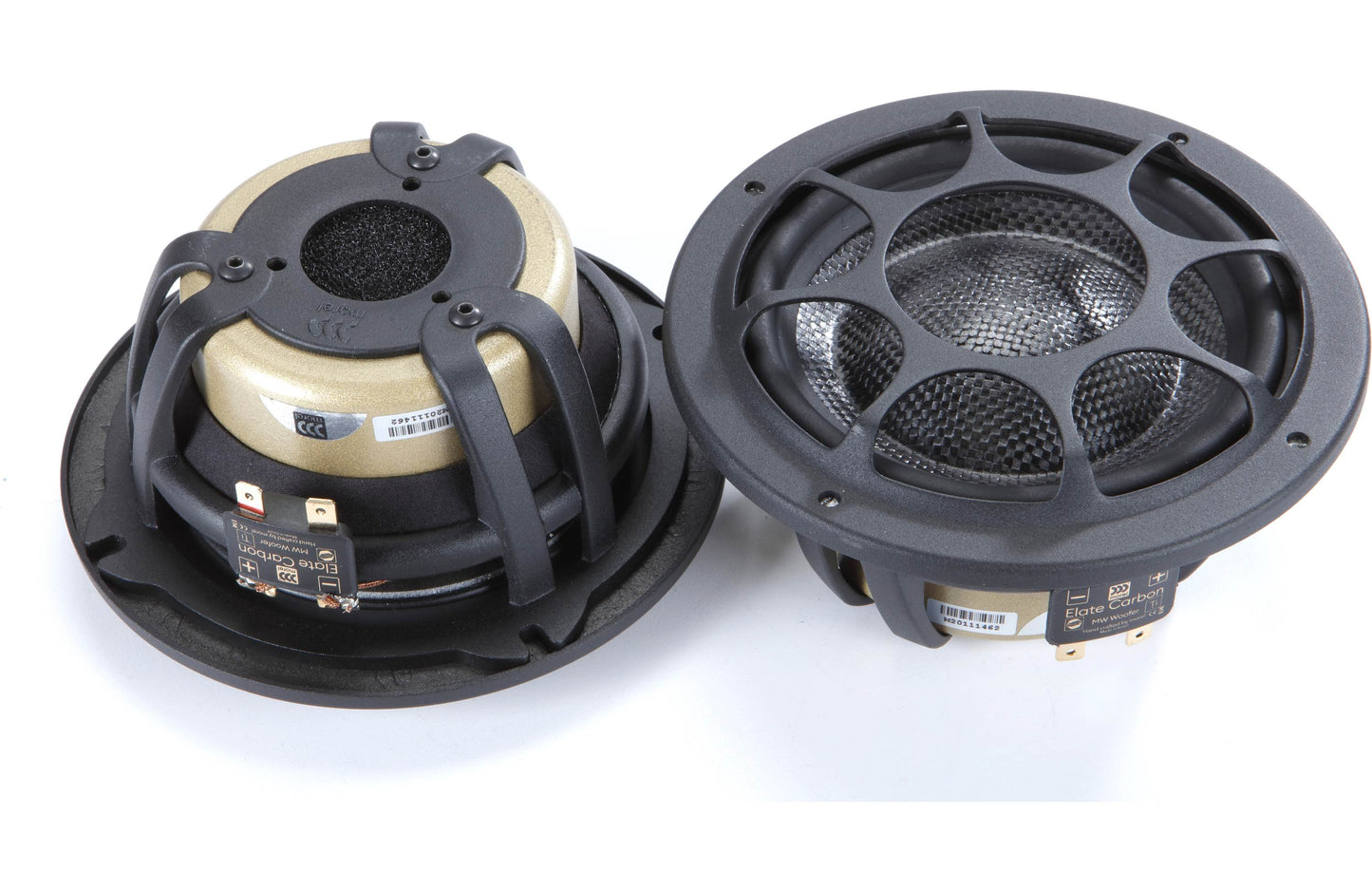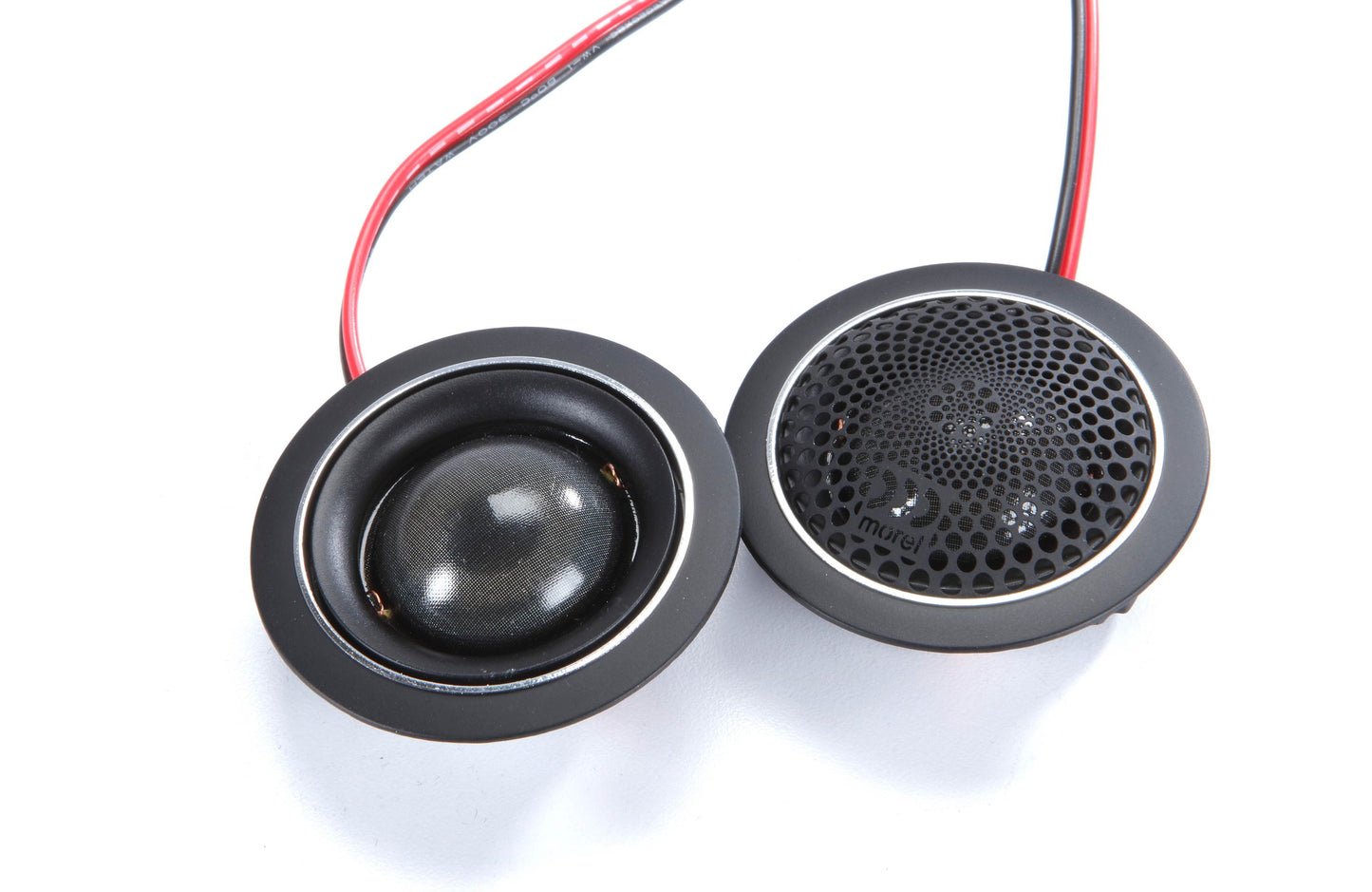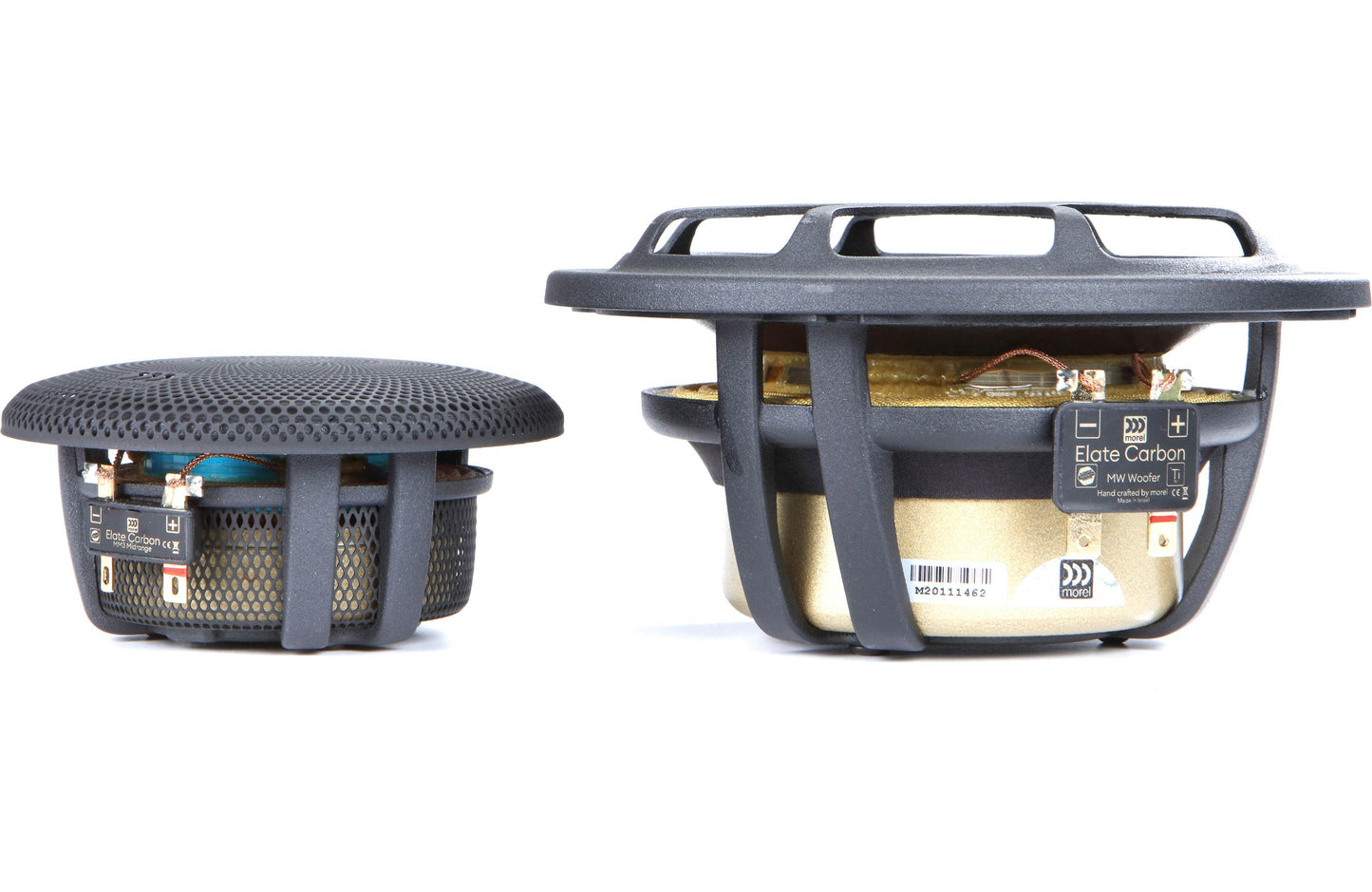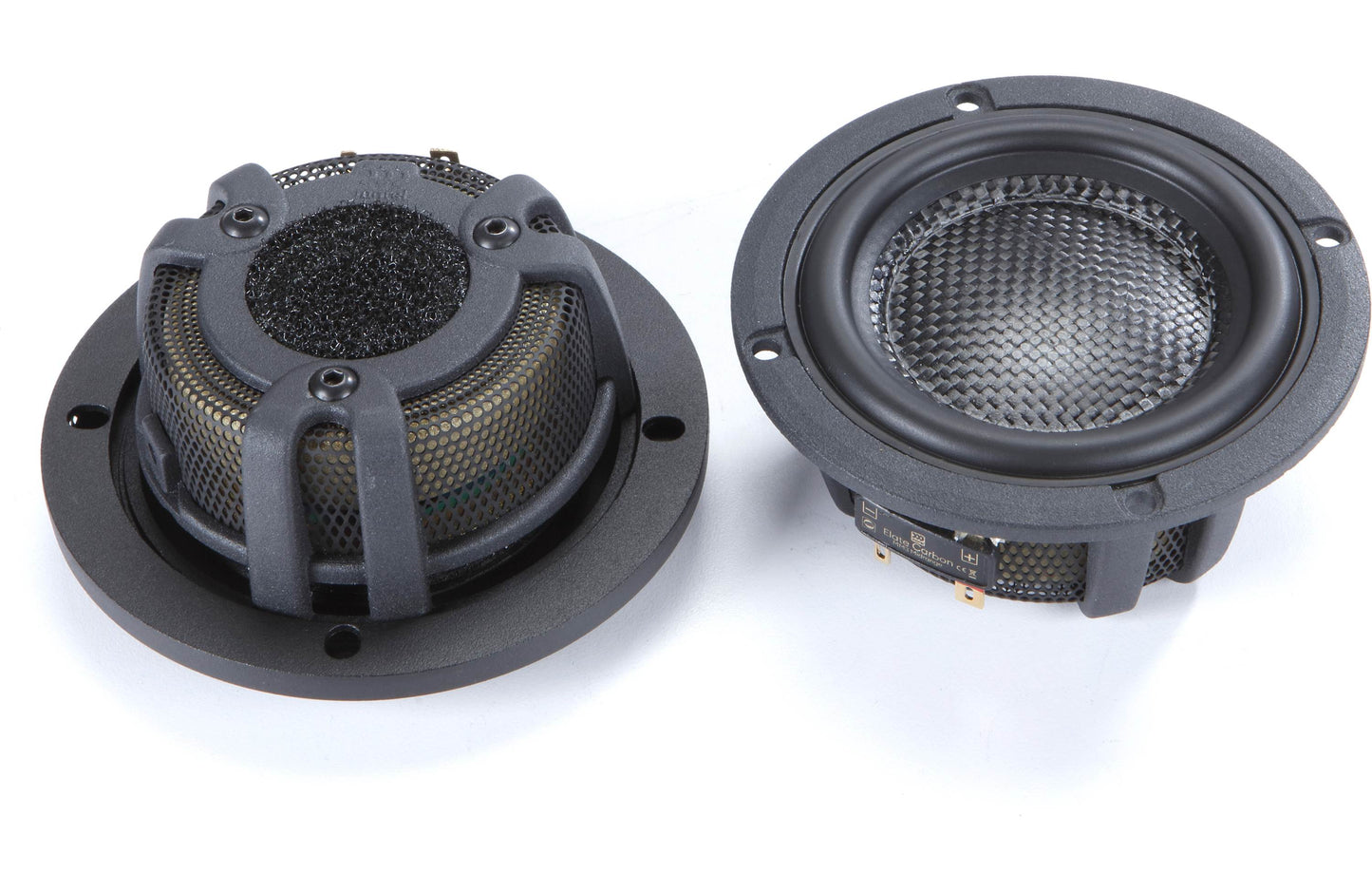 Morel Elate Carbon 53A Elate Carbon Series 5-1/4" 3-way component speaker system